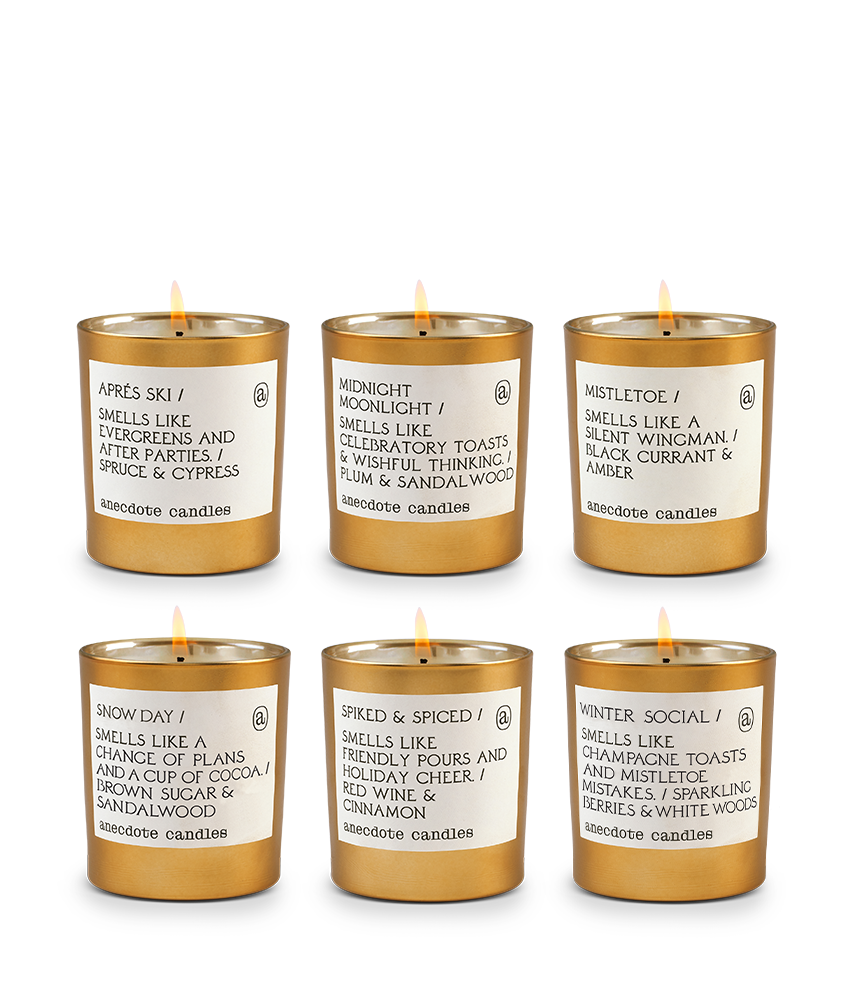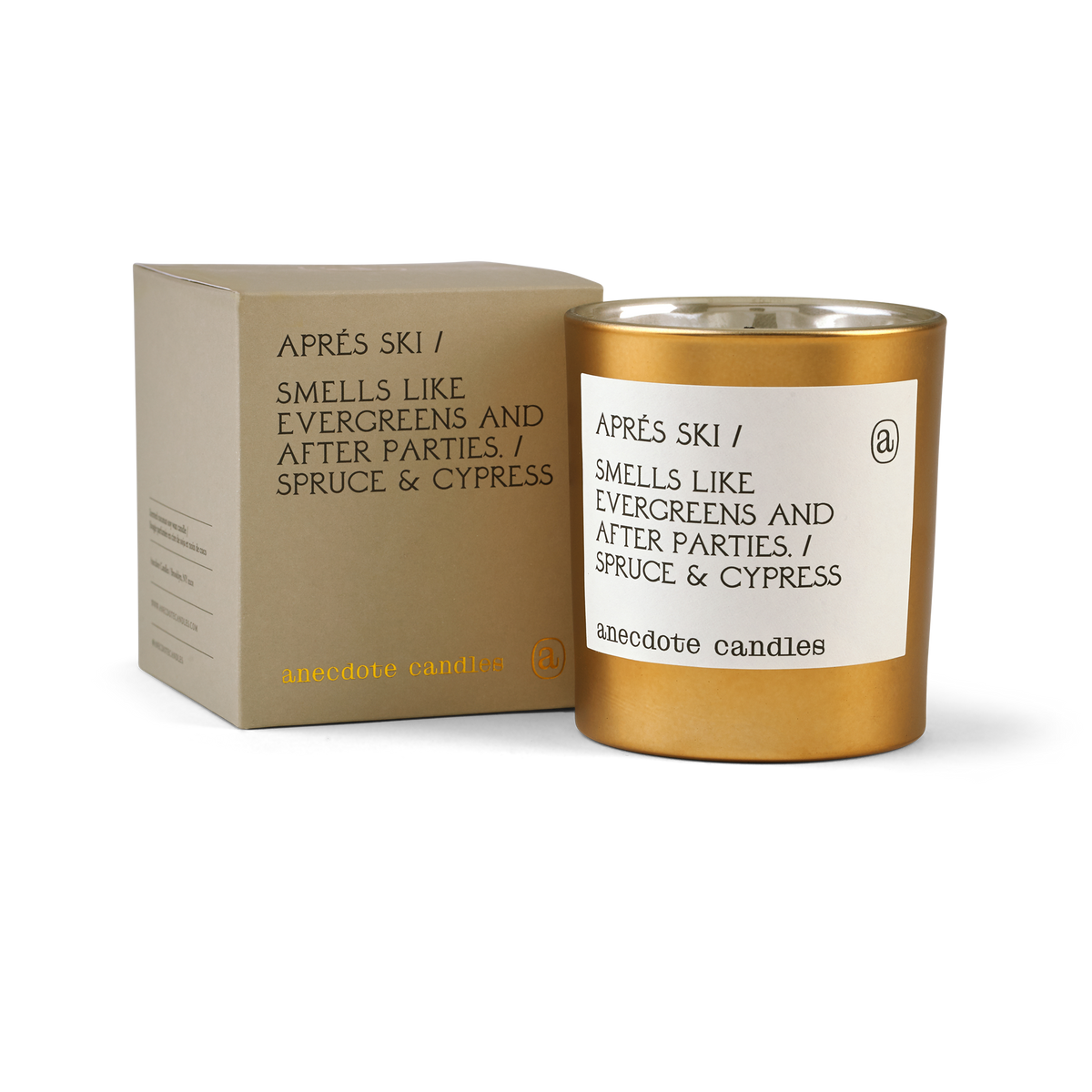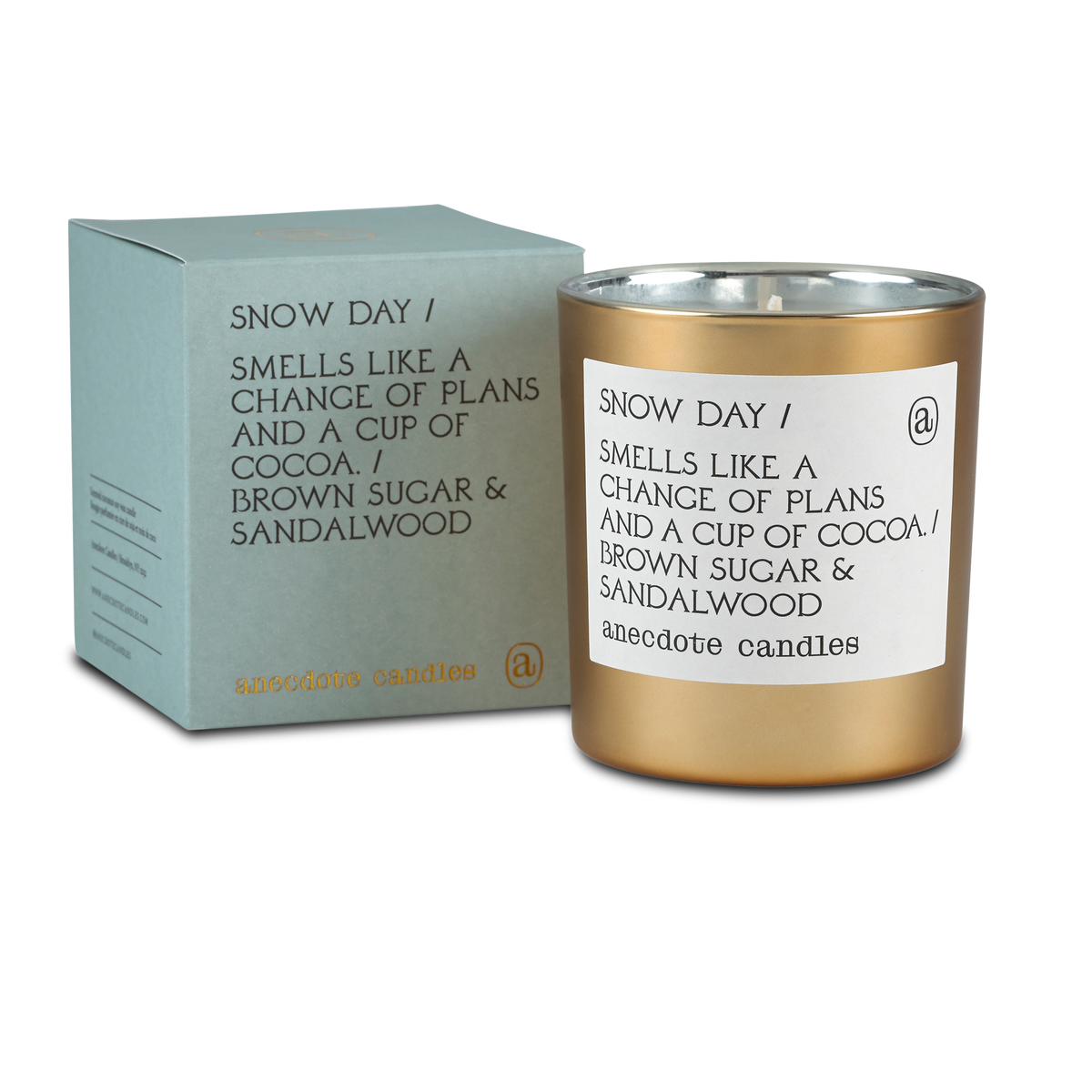 Make your holidays a little extra this year with six festive scents. Each candle is hand-poured in 9 oz gold tumblers and come packaged in foil stamped boxes.
Après Ski / Smells like evergreens and after parties.
Spruce & Cypress - Burning this candle is as invigorating as hitting the ski slopes. Cinnamon, spearmint, and cypress float above a rich spruce and cedar base. A touch of citrus rounds out the scent profile to capture the essence of this winter pastime.
Midnight Moonlight / Smells like celebratory toasts and wishful thinking. 
Plum & Sandalwood - Experience all of the glitz and glam holiday festivities can offer with Midnight Moonlight. A sweet and sophisticated blend of plum, cabernet grape, and dewy violet float above a warm base of sandalwood, vanilla, and musk.
Mistletoe / Smells like a silent wingman. 
Black Currant & Amber - A captivating and sensual aroma, Mistletoe captures the essence of holiday magic in candle form. Hints of apple, saffron, and luscious blackberries lure you in, and a warm blend of black currant and amber seals the deal. Patchouli and cedarwood round out the scent for added depth and dimension.

Snow Day / Smells like a change of plans and a cup of cocoa. 
Brown Sugar & Sandalwood - This candle will bring you warm and cozy vibes all winter long. Sweet notes of brown sugar, maple, and butterscotch are sprinkled above layers of pecan, vanilla sandalwood and caramel. Snow days have never been so satisfying.


Spiked and Spiced / Smells like friendly pours and holiday cheer.
Red Wine & Cinnamon - A modern take on a holiday classic, Spiked & Spiced evokes the festive spirit of mulled wine. A warm and inviting blend of orange, cinnamon, and red currant floats above a deep base of red wine and cedarwood.
Winter Social / Smells like champagne toasts and mistletoe mistakes.
Sparkling Berries & White Woods - Raise a glass at your next holiday soirée. Sparkling notes of orange, prosecco, and pineapple add brightness to any occasion, while apricot, berry, and white woods add a layer of sophistication. Celebrations and libations are in order.
You qualify for Free Shipping
Please note our general processing and shipping times:
Most orders are prepared for shipment within 2-3 business days. You will receive an auto-notification from us with a tracking number the day your package is shipped. That means that we packed your order and it was sent to our mailroom for carrier pick up!

Due to the overwhelming amount of packages at shipping facilities, it is taking longer to get every package scanned at each point in the transit process. It may take up to 5 days for tracking to be available, and we unfortunately do not have any additional information other than the information provided in the tracking number. Please reach out directly to the carrier if you are having an issue with your tracking information. We unfortunately cannot do anything to expedite this and cannot guarantee a timely delivery. Please also note, shipping and processing time does NOT include transit time, something we cannot control.
Most items that qualify for free shipping are shipped via USPS. If your order is time-sensitive, we suggest upgrading to one of the UPS options that are available at checkout. While that will not change processing times, it will likely reduce delays in transit.
All of our products are carefully inspected prior to shipment.
Due to the nature of our products, used candles cannot be returned or refunded. However, we will replace or refund products that were damaged during shipment if you can provide documentation within 5 business days of receiving your order. Please email that documentation to contact@anecdotecandle.com.